Rocket
R9
Rocket Espresso recognise the skill and high level of understanding a Barista showcases and have designed the R9 to meet the movement of the industry. This sleek multi boiler with saturated groups allows the user to control necessary factors for the development of flavour.

Boxer
Functioning and including features of a full sized commercial espresso machine, the small footprint of the Boxer makes this compact unit the perfect choice for a setting where space is an asset.

RE A
Functionality aligned with craftsmanship. With a quick recovery and temperature stability the key focus, the RE A is a high end heat exchange solution and performs to deliver consistent results in high demand environments.

Appartamento
Sleek and contemporary the Appartamento is a heat exchange unit with espresso brew temperature maintained by the commercial E61 Group Head. A small footprint and straight side panels featuring a circular design make this an attractive and practical unit when looking to maximise bench space.

R9 ONE
The R NINE ONE was developed to bring the very best of our commercial machine development programme into a machine capable of outstanding results for both small commercial application or home environment.

Giotto Cronometro R
The name Giotto can most confidently be considered an industry benchmark brand for its build quality that has never been compromised. Purpose built with the very best in traditional craftsmanship and technical knowledge, all to reflect the commercial machine experience at home.

Mozzafiato Cronometro R
Mozzafiato has taken features directly from the Rocket Espresso commercial range. A sleek solid pair of cast alloy flat sided panels on the Mozzafiato model now increases Rockets domestic range to an impressive new line-up and offering.

R58
Dual independently operated PID controlled boilers allowing for optimum extraction of any coffee type or roast style, when dialled in with a well suited grinder. Making a serious statement on any coffee enthusiasts bench.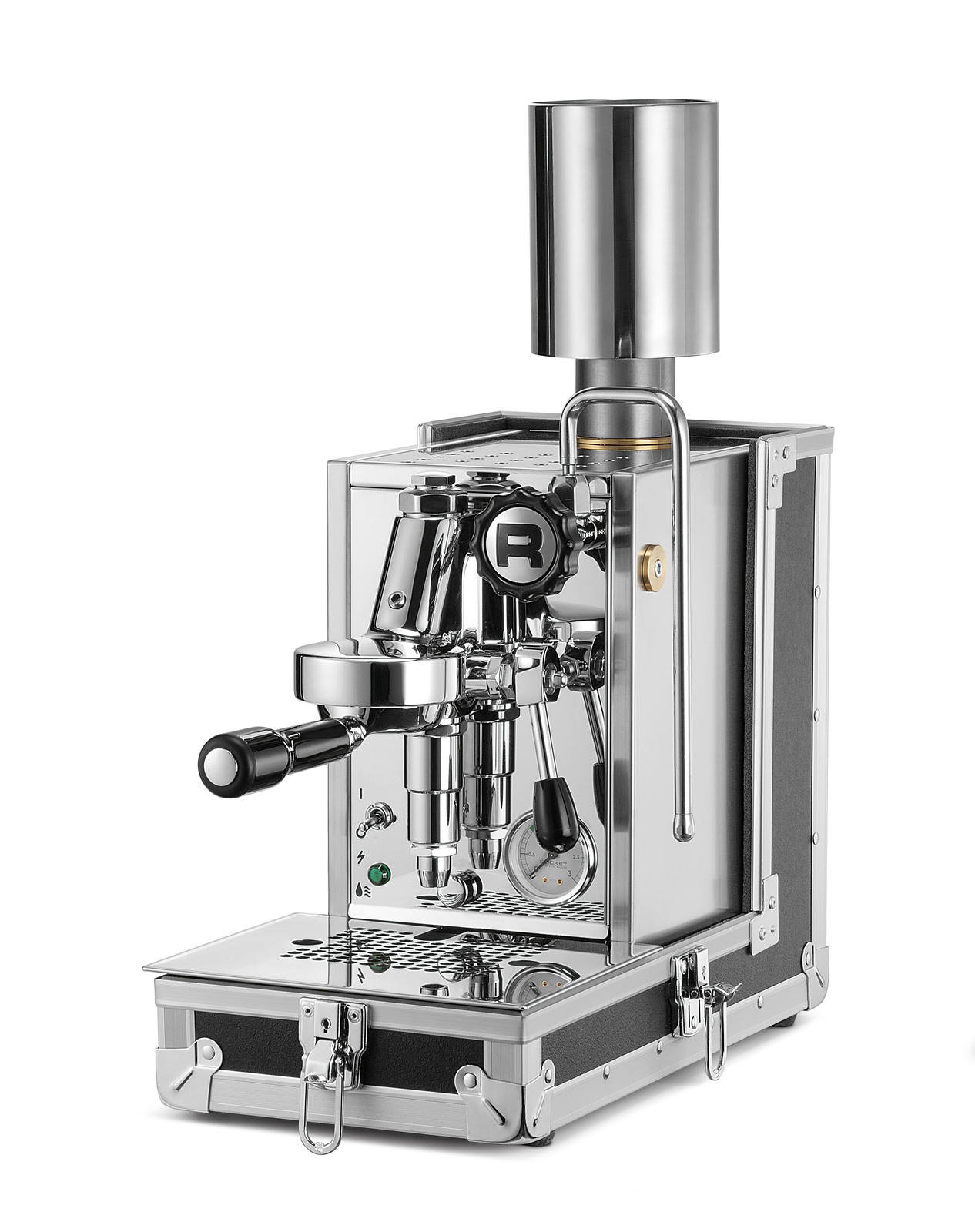 Porta Via
Travel just got a whole lot more interesting – that 3-star hotel just went to a 5 star. The Porta Via, the world's first truly portable espresso machine, so no need to leave your room. The Porta Via is a prosumer espresso machine with a traditional lever-activated 58-mm E61 group, drip tray, super quiet Ulka vibration pump, pressure gauge, all built directly into a hard-shell carrying case with a handle on top.